When you pour your energy, time, and heart into your business, don't let anything take it down. There are a number of ways to block your market competition, but having the right protection, although not as exciting as marketing, is necessary to defend your asset. In this article, we'll explore the importance of obtaining commercial flood insurance, as well as various ways to control the cost of insuring your commercial building against floods.
DOES MY Business need Commercial Flood Insurance?
An extensive analysis by the University of Bristol in 2018 has shown that millions more people are exposed to the risk of flooding than what the FEMA flood maps have predicted. Shockingly, 41 million Americans, over thrice the current estimate of 13 million, are threatened by flooding rivers as per this report. The study utilized high-resolution maps covering the whole nation (as opposed to FEMA's usage of 60%) and factored in more precise evaluations of dwellings and greater focus on the potential flooding of rivers and streams to estimate that by 2050 more than 60 million Americans may be vulnerable to a 100-year flood.
For businesses considering commercial flood insurance, there are important things to keep in mind. Flooding can severely harm businesses and result in operational interruption or financial liabilities. Small business owners who wrongly believe they are immune from natural disasters are caught off guard by the grim reality that floods are in fact America's number one natural disaster. In fact, a staggering 77% of small businesses are not prepared to contend with natural disasters, and nearly 40% never recover after being hit. It does not matter how big or small your business is: even a few inches of water can wreak havoc on expensive equipment, merchandise and interrupt business operations. Commercial Flood Insurance can help you to safeguard your business from water damage and minimize the losses you may incur.
How do I know if I need Commercial Flood Insurance?
The first step to take is to review the coverage of your property insurance for flood coverage. However, don't be taken aback if you don't find this type of coverage in your policy, as most of them do not include "flooding" as a risk they would cover. Property insurance companies are smart; they know that the risk of flooding is statistically higher than any other risk they cover. Flooding can occur even in low or moderate-risk zones, and 20% of all flooding events in the country affect such areas. It is our nation's top disaster, catastrophic and affects multiple properties at once, yet there is little you can do to prevent it if Mother Nature decides to open the sky. If you own a mortgaged property, you must purchase a commercial flood insurance policy. After many years of loan ownership, you are familiar with the cost of a commercial flood insurance policy, and perhaps it's time to shop for a private option. We can help you with that.
How much does commercial flood insurance cost?
If your building is in a higher-risk flood zone (flood zone VE and flood zone AE), the cost of insurance coverage will depend on the size of the building and the amount of coverage required. The National Flood Insurance Program (NFIP) offers a maximum coverage of $500K on commercial flood policies. While some private flood commercial policies offer similar coverage, others go as high as $14M. Buildings in low to moderate-risk flood zones (flood zone X) are eligible for much better premiums on the NFIP Flood Insurance program due to government subsidies of these policies. However, rumors have it that the NFIP is planning to annually increase premiums by 20% until these premiums match high-risk rates. If your premium keeps increasing annually, moving to a commercial private flood insurance policy might be a sensible decision. We can help with that; click here to get started.
Factors to the COST of commercial flood insurance
Flood insurance premiums will take into account several factors

The age of the building

The location of the building to the risk

Location of the lowest flood in relation to the Base Flood Elevation (BFE)

The flood insurance Rate Maps for your area

Private commercial flood insurance is underwritten through Lloyds of London can double coverage and reduce premium drastically

Higher deductibles will also help control cost
Better Flood insurance offers Nationwide flood insurance
Better Flood Insurance writes policies across the US, and we often work with insurance providers that offer nationwide flood coverage. Let us help you find the right flood insurance for your needs.
There exist several flood insurance options that not everyone is aware of. Our peers are often generalists and not specialized like us, the Flood Insurance Nerds. As experts in our field, we only write flood insurance policies. Wouldn't you want the confidence of having such expertise on your side?
Many Lloyd's of London Nationwide flood insurance offering.
Any given year there is flooding in the US and this is a Nationwide problem. Floods can occur anywhere in the country, below are some of the most common events that lead to flooding:
Storm surges in hurricane-prone areas.

Flash flooding, caused by intense rainfall.

Mudslides, caused by long, heavy rain periods on a hill or mountainside.

Snowmelt, caused by the still-frozen ground unable to absorb excess water.

Ice jams, when an ice chunk flowing in a river or stream blocks, dams or narrows passageways.

Urban development, such as new construction and or ground paving, which alters the flood waters by not allowing the land that might absorb excess flood waters.
What are your commercial Flood insurance options?
For over a decade, the National Flood Insurance Program (NFIP) has singularly dominated the flood insurance market. In fact, well-known insurance companies, such as Nationwide, State Farm, and Progressive, operate under a federal program called the WYO. This allows these companies to resell the NFIP, or government option, at zero financial risk.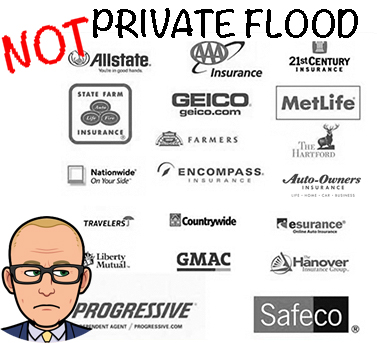 FEMA flood insurance coverage
Congress initiated the National Flood Insurance Program (NFIP) in 1968, aiding flood-prone area residents where private insurers couldn't affordably step in. Regrettably, nationalization of the program enabled construction of buildings in even the most flood-prone areas, offering a safety net for those properties through government bailout. As per FEMA records, the NFIP's total claims-paying capacity was just $14.66 billion in Jan. 2018, of which $9.9 billion represents borrowing authority.
Private commercial flood insurance
We're particularly enthusiastic about the progress commercial flood insurance has made within private companies. It's becoming an increasingly appealing alternative to NFIP coverage, especially since commercial property owners are seeing major savings. The administration of certain commercial flood insurance options is also being simplified, making it easier to opt for a standalone policy.
Key Benefits to Private commercial flood insurance.
One master policy covering all your properties instead of many individual NFIP policies.

Intern creating one renewal date rather than the scattering across many months as we have seen on the NFIP policies.

Replacement Cost Value (RCV) coverage instead of Actual Cash Value (ACV).

Option to include business interruption or loss of rents coverage this is new to flood insurance and then NFIP policy doesn't offer this kind of coverage

Some of our options have no limitations on coverage for subgrade grade floors.

Most of our options are "A" domestic surplus lines carriers
Our Lloyd's of London flood insurance options provide broader coverage and helps to fill gaps left by a standard NFIP policy. Notably, NFIP plans to annually increase commercial flood insurance premiums by 20%. Thus, we can help by searching the private flood insurance market for optimal protection of commercial properties.
Flood insurance commercial contents coverage
On a commercial flood policy, contents coverage pays for damage to inventory, merchandise, machinery, and other contents up to $500,000.
Commercial property flood insurance
A commercial flood insurance policy safeguards your business against damage caused by floodwater affecting your floors, walls, ceilings, fixtures, equipment, furniture, inventory, and business property. However, note that it typically does not cover outdoor property such as landscaping and septic systems. Likewise, flood insurance is not a solution for damage to your business vehicles. Although commerical vehicle insurance's optional "comprehensive" coverage will cater to that. Recall that the NFIP won't cover financial losses from business disruption, but some Commercial Private Flood Policies do provide this coverage.
Maximum flood insurance coverage for commercial property
The National Flood Insurance Program (NFIP) typically capped the coverage of flood damage for commercial properties at $500,000 for both the building and its contents. Unfortunately, claims were often paid out based on the Actual Cash Value (ACV) of the damaged property.
If lenders required greater coverage, commercial property owners were forced to purchase additional Commercial Excess flood coverage. However, the private flood insurance market has since introduced new options; commercial property owners can find policies that offer coverage up to $2.5 million, $5 million, or even $14 million. By exploring these options, owners can avoid the need to purchase an excess flood policy.
Commercial excess flood insurance
Although available for years, the private market flood insurance option has been limited to commercial excess coverage. This excess coverage was intended to supplement NFIP's commercial coverage cap for risks beyond acceptable limits.
Commercial flood insurance quotes
As specialists in flood insurance, we offer multiple options to cover your commercial property. We guarantee to shop many options available to you based on your risk assessment. Our top priority is to provide the good protection plan for your assets and ensure you meet loan requirements while giving you peace of mind. As a business owner, you're not only responsible for yourself but for your clients, employees, and community. Don't overlook the importance of getting proper flood insurance coverage to safeguard your legacy and provide for your family.
Commercial condo flood insurance requirements
NFIP limits commercial condominium coverage (RCBAP) to a maximum of $250,000 per unit. Furthermore, commercial condo owners are precluded by the NFIP from obtaining more than $250,000 in coverage per unit. Consequently, if the Association has already secured a Commercial Condominium Master policy for the building at the limit of $250,000 per unit, the building cannot be insured beyond this threshold with the NFIP and sometime their needs to be more coverage. The NFIP views the policy as merely a commercial flood insurance solution. Private flood insurance options can serve as better alternatives to safeguard your risk.
Flood insurance requirements for commercial loans
For those whose loans are from federally regulated financial institutions, and whose properties are located in high-risk flood insurance rate maps- usually zones A and V- such areas are commonly referred to in the banking industry as special flood hazard areas (SFHAs).
This is federal law and there are few institutions that have figured a way around this mandate.
It is standard practice for banks to perform a Standard Flood Zone Hazard Determination (FZD) for all properties, and if the property falls within Zone A or V, it's mandatory to purchase flood insurance to obtain the loan.
Despite FZD being a common practice, many lenders conduct these checks too late, causing a delay in the closing process or even halting it until the borrower meets the flood insurance requirements.
For condominium and cooperative units, the mandatory purchase of flood insurance by lenders applies. Yet, these requirements have complexities of their own which I discuss in separate blog posts. Check out the links below for further information.
 – and –
Commercial flood insurance rates
If your business is situated in a flood zone marked by FEMA, it's crucial to purchase a commercial flood insurance policy without delay to maintain financial safety. Renting office space? Remember, your landlord's insurance (flood insurance for rental property) covers the physical structure only – not the contents of your office. They'll only foot the bill when damages arise as a result of their oversight. Lastly, running a business out of your home? Your home insurance does not provide flood coverage even if you have coverage for your business gear under an add-on. Insuring both your personal and business assets, therefore, demands a separate flood insurance policy. For optimal protection and up to 50% in savings on your coverage, contact Better Flood Insurance – your one-stop flood insurance solution.