Fast and Free Flood Insurance Quotes from the Flood Nerds™ 2023
Fast & Free Flood Insurance Quotes 
Buying a new home and need to get flood coverage fast? Wondering how much flood insurance costs for your existing home? Tired of overpaying for flood insurance and want to get a quick flood insurance quote online?
You landed on the right page at the right time! The Flood Nerds are here to help!
Flood Damage is Devastating – Getting a Flood Insurance Quote Is Not
Statistically, flood damage is the most devastating type of damage your home can ever incur. A windstorm may blow off a portion of your roof, exposing the interior to wind and rain. But a flood can sweep your home from the foundation and floodwaters can permeate every nook and cranny in your home. A single
inch of water causes about $25,000 in damage
and a major flooding event causes $70,000 to $150,000 in damage. 
Do you have that much in savings? If you don't, you need to get a flood insurance quote. 
That's because homeowner's insurance doesn't pay for flood damage. 
If you don't have flood insurance – you're ass-ets are exposed.
Homeowner's Insurance Doesn't Cover Flood Damage
Take a look at your homeowner's or property insurance policy. If you read all the gobbledy-gook you'll discover that damage from flooding isn't covered. 
What you say? That's blasphemy!
No, it's good business for the property insurance companies. They know you have a .01% chance of ever filing a significant claim. There's a .01% chance that your home or property will burn or even have a fire over the time you own it. 
Low risk = big reward for the insurance company.
But, there's a 20% chance that your home will flood over the time you own it. 
Last year, 100,000 uninsured homes were damaged by floodwaters. 
That's crazy! Flood Nerds give flood insurance quote in a flash. Get your flood insurance quote online and see how affordable coverage can be. 
What Factors Influence My Flood Insurance Quote?
Flood Nerds sniff out savings so you get great coverage and a reasonable rate.
Factors influencing your rate include:
Location of property

Age of home
Coverage limits and deductibles 
Private Flood Insurance Quote vs FEMA Flood Insurance Quote
Flood Nerds know their stuff. They shop the private market as well as the National Flood Insurance Program (NFIP) and see which works best for you. 
Nerds are known to find a flood insurance quote that costs as little as $1.50 a day.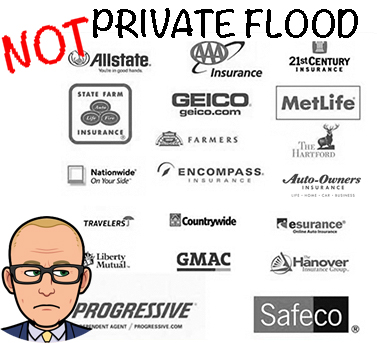 Avoid Trojan Horse Flood Insurance Quotes
Many "private" flood insurance quotes are just government NFIP policies in disguise. Did you get a State Farm flood insurance quote or a quote for Allstate flood insurance?
That's not State Farm flood coverage or Allstate flood insurance. It's a government policy, written through the NFIP, with the insurance company's logo slapped on it. You might think you are in good hands or that your insurance company will be there like a good neighbor.
What you have is a Trojan Horse. It looks like one thing on the outside, but inside – it's just a government policy.
Sometimes the NFIP rate is better, but many times it is not. That's why Flood Nerds geek out and shop both true private flood insurance markets and the federal program and then compare the prices. When Flood Nerds get you a quote for flood insurance, you know we've examined your options.  
What Does My Flood Insurance Quote Cover?
Flood Nerds get you the coverage you need for your individual situation. It's concierge-level service – and you know you deserve it!
Do you have a swimming pool? We may be able to find a policy that covers it. Need coverage for your finished basement? Most policies limited coverage for the basement, but if you need that coverage we'll look for it too!
A quote for a standard flood insurance policy will cover damage to your home or structure including the foundation, electrical, and plumbing. This covers mechanical systems like the hot water heater, air conditioner, heat pump, and furnace.
Insuring your contents is a good idea. Flood Nerds look for policies that cover the contents of your home such as clothing, electronics, appliances, and furniture. 
The standard limits for coverage when you get a flood insurance quote are for $250,000 for the building and $100,000 for your contents. But all you have to do is
Ask a Flood Nerd for a quote
to cover your property fully and we'll shop higher limits around. 
Flood insurance quotes for commercial properties cover 500,000 for the structure and $500,000 for the contents. Talk business with a Flood Nerd, we'll shop the right coverage for you. If you need loss of use and lost income as part of your flood coverage, we'll shop for that too!
Don't Wait to Get Your Flood Insurance Quote
If the floodwaters are already rising, you may be able to get a flood insurance quote, but you won't be able to get flood insurance coverage.
So get your quote now, before catastrophe strikes.
---
Flooding happens outside of historically flood prone areas all the time. A third of US households with children are in a flood plain and almost a third of households with seniors are at risk. 
During Hurricane Harvey,
70% of the flooded homes weren't insured
. Just because your lender doesn't require flood insurance doesn't mean you aren't at risk for flooding. 
If you live where it rains, you need flood insurance. So, get a flood insurance quote online for free. It takes minutes and it may be the smartest thing you do today.