2023 – Here's the Lazy Way to Save Money on State Farm Flood Insurance
How Much Should You Pay for Flood Insurance?
Use this tool to see how much you can save with private flood insurance.
Your State Farm Flood Insurance policy doesn't really handle your flood coverage. Your information is sent over to an underwriter with the National Flood Insurance Program (NFIP).
That NFIP underwriter is not an agent and might not care about saving you money.
They just want to write your policy and move on to the next one. And your State Farm Agent might not know enough about flood insurance to question the NFIP price they get.
We think too many people with State Farm Flood Insurance pay more for coverage than they would with private flood insurance.
Flood Nerds save people from overpaying for flood insurance.
Find Out the Cost Difference Between Government and Private Flood Insurance
If you are reading this page, you probably need to save money and we should see if you can pay less then your current State Farm flood insurance policy. 
State Farm, Allstate, Geico, Nationwide, and even USAA (and all on the image below) are well-known insurance company names and some are really good companies however none of them underwrite write your flood policy they all farm that out to the NFIP.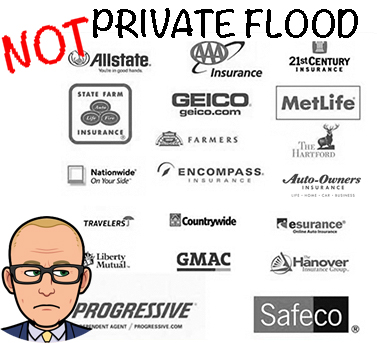 These companies sell flood insurance, but they don't write the policy.
They've had a non-compete agreement for many years with the NFIP.
This could keep you locked into an expensive policy and thinking there is no other alternative for flood insurance.
And maybe, your local State Farm insurance agent might not even know there is an alternative.
There have been alternatives to national flood insurance since 2012.
However, the government's Write Your Own program discourages competition with the private insurance market, and this lock-out coupled with an uninformed State Farm insurance rep could keep you from getting better coverage or a better price for your flood insurance.
What works well for State Farm Flood Insurance might not work best for your budget.
So use the lazy way to find the best price.
Ask a Flood Nerd to shop for flood insurance.
WE shop the true private flood insurance and compare it to the NFIP to get you a great price and an even better policy.
You don't need to do anything and we promise that we won't try to sell you auto, life, or dental insurance.
State Farm Flood Insurance hasn't been offered since 2010.
They pulled out of the Write Your Own Program with the NFIP. 
So how do you still have a State Farm Flood Insurance Policy?
Your local State Farm Agent is just entering your information into a portal that goes directly to the NFIP where an underwriter rates your policy. 
Underwriters may be great at their job, but their job isn't to save you money.
They are most likely going to plug in your information and get the system to spit out a rate and send that over to your agent. 
And unless your agent is one of the few that really does understand flood insurance you will likely just get passed the number without them questioning it.
Click to get a Flood Nerd to find better coverage and a better premium.
Which is cheaper – the State Farm Flood Insurance you have through the NFIP or a policy through a private insurance company? 
How hard is it to click?
It isn't.
But comparing the ins and outs of flood insurance can be confusing. 
So, be lazy, and let a flood nerd get you a comparison. 
A Flood Nerd will figure out if the NFIP policy through State Farm is cheaper (it might be) or if you can do better. 
Stretch your budget and save the lazy way.
You have nothing to lose and money to save for just comparing coverages. 
Find out if you are paying too much for flood insurance. 
Get a Flood Nerd to compare what you pay for State Farm Flood Insurance with what you will pay for private flood insurance. 
It just takes a few minutes to fill out our property information form. 
It's not that hard to save money on flood insurance.
We typically find flood insurance policies with premiums in the  $500 – $1500. 
You work hard, take a break, and save some money.
Flood Nerds often save hundreds to thousands for our clients.
Just click!