Here's the Lazy Way to Save Money on State Farm Flood Insurance
If you are reading this page, you probably need to save money and want to see if you can pay less for State Farm Flood Insurance. 
State Farm Flood Insurance, Allstate, Geico, Nationwide, and USAA are well-known insurance company names and they have a secret they don't want you to know. But I'm about to spill the beans.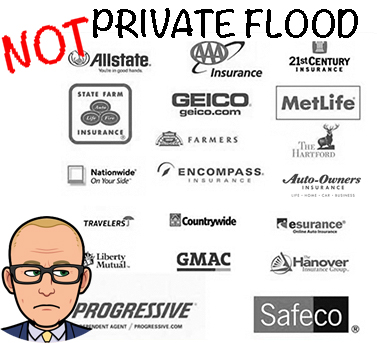 Here it is – these companies sell flood insurance, but they don't write the policy. They've had a non-compete agreement for many years with the NFIP. This keeps you locked into an expensive policy and thinking there is no other alternative for flood insurance. Heck, your local State Farm insurance agent may even believe this is true.
But this is a lie. There have been alternatives to national flood insurance since 2012. However, the government's Write Your Own program discourages competition with the private insurance market, and this lock-out coupled with an uninformed State Farm insurance agent could keep you from getting better coverage or a better price for your flood insurance.
What works well for State Farm Flood Insurance might not work best for your budget. So use the lazy way to find the best price. Ask a Flood Nerd to shop for flood insurance. WE shop the true private flood insurance and the NFIP to get you a great price and an even better policy. You don't need to do anything and we promise that we won't try to sell you auto, life, or dental insurance.
State Farm Flood Insurance hasn't been offered since 2010.
So how do you still have a State Farm Flood Insurance Policy? Your local State Farm Agent is just entering your information into a portal that goes directly to the NFIP where an underwriter rates your policy. 
Underwriters may be great at their job, but their job isn't to save you money. They aren't going to look for loopholes that provide great coverage at a reduced price.  They just provide a quote and your State Farm agent doesn't question it.
Now you know the secret, click to get a Flood Nerd to find better coverage and a better premium.
Which is cheaper – the State Farm Flood Insurance you have through the NFIP or a policy through a private insurance company? 
How hard is it to click? It isn't. But comparing the ins and outs of flood insurance can be confusing.  So, be lazy, and click to get a comparison. 
A Flood Nerd will figure out if the NFIP policy through State Farm is cheaper or if you can do better. 
See Flood Nerds look at things like distance from the flooding source, your foundation, the elevation of the home from the flooding source, and then of course coverage amounts, and deductibles. Then we give you a comprehensive quote and make sure you understand your coverage options.  With a Flood Nerd doing the work, you'll get a customized option for your unique needs.
Stretch your budget and save the lazy way.
You have nothing to lose and money to save for just comparing coverages. 
Find out if you are paying too much for flood insurance. 
Get a Flood Nerd to compare what you pay for State Farm Flood Insurance with what you will pay for private flood insurance.  It just takes a few minutes to fill out our property information form. 
It's not that hard to save money on flood insurance. We typically find flood insurance policies with premiums in the  $500 – $1500. 
You work hard, take a break, and save some money. Flood Nerds often save hundreds to thousands for our clients.
Just click!