Just getting into my first rental. However, the flood insurance we are having to pay is a pretty hefty payment each month. I have been looking into petitioning for the removal of the requirement just solely to be able to increase monthly cash flow. If anyone has any tips on how to go through this process or the best way to increase your odds of being able to get out of it, your input would be greatly appreciated.
*On a side note about this property. Every other house around it is not in the flood zone, and the only piece of the lot that is in the flood zone is a small area in the corner of the front yard. The house is also 13 feet off the ground and is no real danger of flooding (based on the 10-year flood plain) .*
---
---
Hi @Shawn Ziegaus, Have you tried shopping for your flood insurance on the private flood insurance market?
I suggest you google (private flood insurance) or (Lloyd's of London flood insurance) skip over the ads, and look for an agent that will shop all options (including the NFIP or government option).
We do a free audit of someone's current policy (and often find errors) as most agents don't specifically deal with flood insurance and are not experts at how to get the best premium for their clients.
Moving the policy to the private flood insurance market, you might be able to save money.
How to get a LOMA.
Getting a LOMA (Letter of Map amendment) takes a very long time, and there is a trend that the government is not removing properties as readily as they did a few years ago.
We have also seen that properties are removed and then returned the next year.
VERY frustrating.
Anyway, there are a few things I can offer you to see if your home qualifies for the LOMA.
1) First look up your property in this link
2) Put in your property address
then on the right-hand side, there is a menu tool. Click on it to scroll down and look for the LOMA. Click it on.
This will turn on all the properties that have applied the address.
3) Click on the download, and you will see the pop-up of what the result is.
Look for the area that says OUTCOME and look to see if it says "Removed" or "NOT removed."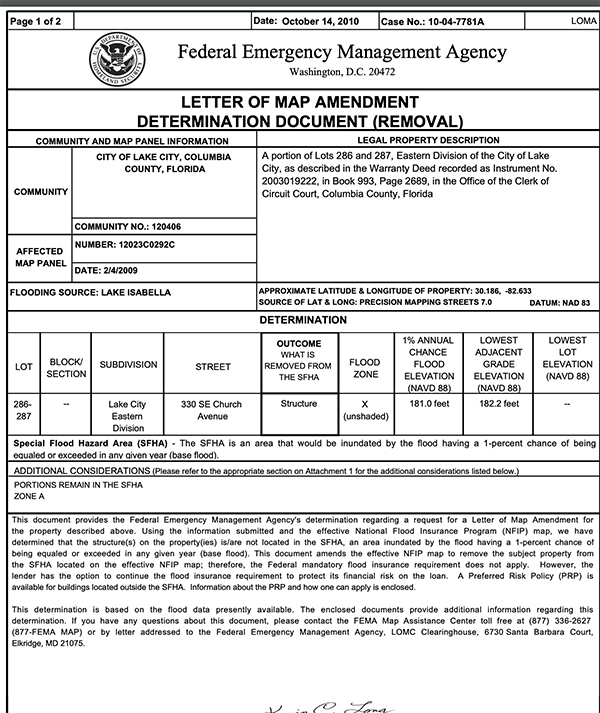 NOTE: you will have to be patient the site is a bit slow, but if you wait for it to develop, you will be able to discover a lot about your area, so be patient. 
You will need an Elevation Certificate.
You will need some "tools" to get the government to look at your property. You will need to get an Elevation Certificate(EC) (which needs to be done by a government-approved surveyor).
These can cost about $500 – $800, and most of the time, I have to help the surveyor. I can help point you to get one if you want. You can also google (your area and Elevation Certificate).
My thinking is that if properties have had success getting a LOMA around your property, then there is a good chance you might be able to get one as well.
If you don't see any, then well, you might not be able to get one. So the private flood insurance market might be a better solution.
If your property is in just an A flood zone (like in the photo), there is a different way to go about getting the EC. If so put that in this thread, and I will try to explain what you can do in this instance.
Good luck.
Your Flood Nerd