2023 – How much is Flood Insurance in Colorado?
Save Money on Colorado Flood Insurance
Understand your options for Flood Insurance in Colorado – Explained by real flood experts – the Flood Nerds™
I am Robert Murphy, the Lead Flood Expert at Better Flood Insurance Agency based in Colorado. Our team at Flood Nerds takes pride in calling Colorado our home, and we find joy in helping fellow residents navigate through the challenges of finding affordable flood insurance. We understand the pain that comes along with rising premiums and the urgency to secure flood insurance quickly. Allow the Colorado Flood Nerds to assist you in discovering the optimal coverage at the best possible pricing.
How Much is Flood Insurance in Colorado?
Are you paying too much for your flood insurance premium? Most people are, and they don't even know it. There's a good chance you could be saving money on flood insurance if you have a flood nerd shop around. Don't overpay on your flood insurance – find out how much you could save!
With the right help and a flood nerd, flood insurance in Colorado doesn't have to be expensive. Instead of worrying about how much flood insurance is in Colorado and how much your premium is going to cost you every year, why not get an expert on your side and figure out the best coverage options for you?
Get the most out of your flood insurance policy with a flood nerd. Our team of experts will review your policy and compare it to NFIP and show our pre-vetted private flood insurance market so that you don't have to worry about overpaying or missing important coverage. Get smarter about your flood risk today.
Colorado Homeowner's Insurance Does NOT Cover Flooding
The usual Colorado homeowner's insurance policy is offered by Farmers, State Farm, Allstate, or Progressive to secure the house against theft, fire, and wind. However, none of them defends against flood damage which is a significant concern.
It may seem absurd to request flood coverage endorsement, and most agents will not even consider it. Rather, in Colorado, obtaining separate Colorado flood insurance policy is a must. The issue is that even when you approach most homeowner's insurance representatives, they tend to dump you into the National Flood Insurance Program (NFIP), the easiest route for them, but the most expensive for you.
Fear not! The good news is we, the Colorado Flood Insurance Experts at Flood Nerds, always secure the best coverage and rate. The search is entirely free.

Get a Colorado Flood Insurance Quote
When it comes to flood insurance in Colorado, you need to make sure you're shopping around for the best flood insurance quote. But how can you compare the different policies when all of the language is so technical? Plus it takes so much time.
Get an expert in your corner who understands what all the insurance jargon means. From NFIP to private quotes, your flood nerd will make sure you get the cheapest flood insurance rate that doesn't compromise your coverage.
Let us take away the hassle of understanding your Colorado flood insurance quote. Our flood nerds are here to help you get a great deal on your coverage.
Do You Really Need Colorado Flood Insurance?
Colorado's geography is
characterized
by either sprawling flatlands or majestic mountains, and the state is entirely landlocked without access to the ocean. Given this, it might seem superfluous to purchase flood insurance in Colorado. After all, it doesn't flood in Colorado, does it?
The floods that wrecked Colorado in 2013 caused an enormous loss exceeding a whopping $2 billion. It's a staggering amount that underscores the pressing need to consider coverage options. Yet, many hold the misguided notion that residing outside high-risk flood zones means automatic immunity to risks. Regrettably, such a belief can backfire, leaving them caught off guard and without coverage.
---
"The weather man is always right – said no one, ever."
---
Indeed, that is quite accurate, especially for Colorado. The state experiences every kind of precipitation: rain, sleet, snow. However, it all melts eventually, and as a result, creek and river levels tend to rise, leading to occasional flooding incidents.
Although you may reside in a low-risk area, it doesn't guarantee a zero chance of flooding. Shockingly, low-risk areas account for 20% of all flooding events in the United States each year. Therefore, it's essential to remain vigilant and prepare for potential flooding.
Did you consider purchasing flood insurance when buying your house, but decided against it because the lender didn't require you to?
Maybe the real estate agent assured you that flood insurance wasn't necessary, or perhaps you believe that you are immune to floods. However, it's essential to remember that floods can happen to anyone, anywhere, and flood insurance can safeguard your home and belongings from financial ruin in the event of a flood.
Have you ever witnessed a massive storm imminent and fretted over the likelihood of flooding? Even if you were fortunate enough to escape unscathed, what about the next time?
Just because you are in a low-risk area doesn't mean you have no risk of flooding.
The feds have been collecting flood data for the last 50 years. This data shows that recent major storms resulted in flooding in low-risk areas. And 90% of people with homes that were flooded didn't have flood insurance.
 Don't buy the "low-risk" lie – buy flood insurance!
What Happens If You Have a Flood But Not Flood Insurance in Colorado?
This one is easy! When your home is damaged by a flood and you don't have flood insurance you are stuck paying for the damage.
Flooding is one of the most expensive causes of damage to repair. It can cost $40,000 to $90,000 to fix the house. That's not including the contents.
 Maybe you are betting the government will step in and help.
 Ha!
 That's another lie.
---
"The nine most terrifying words in the English language are:
I'm from the Government, and I'm here to help."

Ronald Regan, former California Governor and President of the US
---
For you to get that government "assistance" in Colorado, this is what must happen:
√  The Governor of Colorado must request a federal declaration of disaster.
√  The President must declare the area a disaster area to make federal assistance available.
√  You must apply for that assistance.
√  Assistance will be in the form of a loan you MUST pay back.
√  That glorious assistance will be about $5,000.

---
Seriously.
You'll land a loan of about $5,000 to cover the average $40,000 to $90,000 of damage.
Now you understand why so many properties are abandoned or foreclosed after having flood damage? 
Flooding is the number two natural disaster in Colorado, just after wildfire ~ If you don't have flood insurance, you face financial ruin.
So it is better to have Colorado flood insurance rather than bet on a government bailout.

Flood Maps in Colorado
Many Colorado flood zone maps are more than 40 years old.  Since then, areas have been developed and more pavement and buildings mean less ground to absorb water. Out-of-date maps are a real problem. The NFIP and all federally backed lenders rely on flood zone map to assess risk, set premiums and determine who is required to purchase flood insurance.
Bad Colorado flood zone maps leave property owners under or uninsured.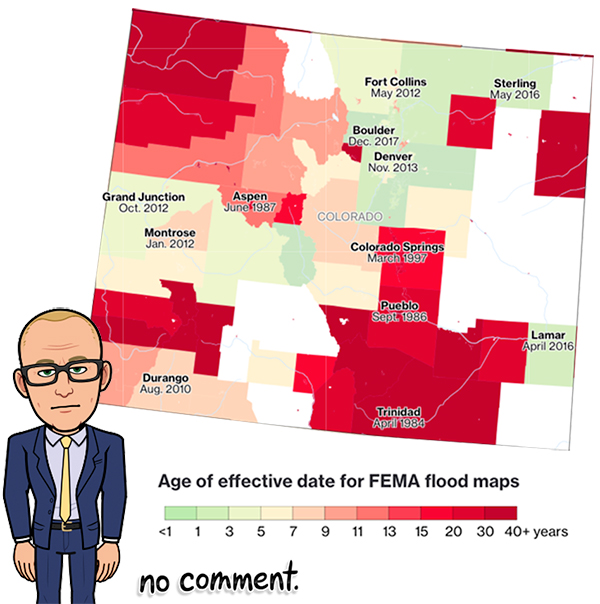 An outdated flood map that doesn't reflect recent development puts you at risk for flooding without you knowing it.
Even FEMA admits that the flood maps only partially reflect the real risk.
Flood coverage gives you peace of mind and Colorado flood insurance rates aren't as bad as you think. Colorado flood insurance averages between $405 – $700 a year.
 No matter what the map says, it's better to have coverage and not need it than to not have coverage and wish you did.
Flood Insurance Quote in Colorado
Most homeowners, real estate agents, and lenders don't realize you have many options when it comes to Colorado flood insurance. But the Flood Nerds know all about getting cheap flood insurance in Colorado. We know more than
5 Ways to Save on Flood Insurance
.  There are basically two markets for Colorado flood insurance.
National Flood Insurance Program (NFIP)
The NFIP is run by the Federal Emergency Management Administration. This is the government option for flood insurance and many people think it's the only way to get Colorado flood insurance. That's because they held a 50-year monopoly on the market and their premiums reflect that dominance. 
Some insurance companies are just re-sellers of the NFIP policy. They sell you an NFIP policy with their insurance company's logo on it. If you have Nationwide flood insurance, State Farm flood insurance, Progressive flood insurance or a policy by any other re-seller you just have NFIP insurance under a private skin. That's NOT private flood insurance and it is NOT the way to save money on Colorado flood insurance. Is your current policy through a re-seller? Check out this
list of companies that resell the NFIP policy
.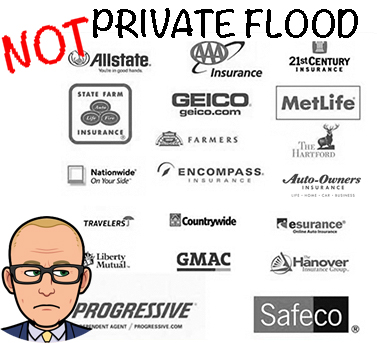 Private flood insurance market
Colorado isn't stuck with the NFIP. There is a robust private flood insurance market and you can even tap into the Lloyds of London flood insurance syndicate for Colorado flood insurance.  Sometimes you can get real good rates with Lloyds because they spread the risk all over the world and the risk of the entire planet flooding at once is very small. We Flood Nerds like to say, "God said he wouldn't flood the world again and Lloyds of London takes him at his word". Now you know what makes a Flood Nerd snort and laugh.
But getting the Colorado flood insurance isn't a laughing matter. There's so many options and it's easy to confuse the private flood insurance market with those NFIP re-sellers. But the Flood Nerds know the ins and outs of private flood insurance. Take the easy way out and just ask a  Flood Nerd to get you a free quote for cheap flood insurance in Colorado.
We shop all the options for your property in your area of Colorado to get you the best premium. We'll even check out the NFIP to make sure that all the bases are covered.
The Cost of Flood Insurance in Colorado
One major factor in the cost of flood insurance for Colorado is the property location and the company that writes the coverage. Premiums for homes in low-to-moderate risk are lower and premiums in high risk areas are higher.  
Flood Zone X  – Colorado Low-to Moderate Risk Zone
Lenders don't require flood insurance in this zone. But remember, floods happen in low risk zones, and the map may be old.
For properties in the X Flood Zone we usually suggest the government Preferred Risk Policy (PRP). The government subsidizes a portion of the premium and limits the coverage, so this keeps the rates low. 
The average cost for PRP flood insurance in Colorado with the maximum set limits in low risk flood zone areas is $405 – $700 per year
. 
Flood Zone AE in Colorado
A higher risk flood zone is Flood Zone AE. If your property is in Zone AE, your lender will require you to have flood insurance. 
The cost of flood insurance in Colorado Zone AE really depends on factors that are unique to the structure. 
As an example, let's look at a house built on a basement in Arvada.
The house
either doesn't have an Elevation Certificate applied or the Elevation Certificate shows that the lowest floor is 4 feet under the BFE for the area.
The policy is for flood coverage at the NFIP maximum of $250,000 for the building only. It doesn't include contents and the deductible is our recommended amount of $5,000. 
Our example is a house in Arvada but the premiums will be the same as in Boulder, Denver, Wheat Ridge, Lakewood, Golden, Colorado Springs and many other Colorado cities and counties in AE flood zones. 
The NFIP option in Colorado Flood Zone AE is $2,541.00
Now, let's look at the Colorado private flood insurance market and compare the options. The coverage and deductible are exactly the same.  
The Colorado Lloyds of London policy would be $849.75
This option is great but they won't cover a property with a prior flood loss. But they will cover more than the NFIP in the basement and about $2,000 for loss of use. $2,000 for other structures doesn't increase this coverage. They won't ask for an Elevation Certificate.
Replacement Cost Value Coverage
Above we compared standard flood insurance at the NFIP maximum. But with private flood insurance, you can insure for the actual cost to replace the home. Let's look at a policy written for the actual replacement cost. The $250,000 example we are using is probably a little low, but to maintain comparison, we will stick with that amount.
So for $250,000 RCV building coverage, 20% contents coverage, 10% other structures, and 10% loss of use with a $5,000 deductible
the annual premium for replacement cost coverage is $1,637.70


Average Flood Insurance Costs in Colorado by Area
How much does flood insurance cost in Colorado? If you look at the number of NFIP policies and the combined premium you can see people pay way too much in Colorado for flood insurance.
Statewide, California has 21,035 NFIP policies in force at a total cost of $17,996,733. That's an average of
$855.56
Arvada
has
417 flood NFIP Flood policies
with $522,770 written premium, making
Arvada's average premium around $1,253.
Arvada, the private market could be a better solution for you.
Aurora has about 302
policies with a premium amount of $187,491 written premium. Aurora typically has newer homes built to flood code so
if you are paying more than $620 Aurora's average you're paying too much.
Boulder
leads the state in flood policies with
4,456
and the premium on NFIP's books is $3,401,225.
The average in Boulder is $763.
If you are paying more than this it would be a good time to let a Flood Nerd find you a better rate.
Longmont
is a neat and growing area, more affordable than Boulder. There are
416 flood policies
in this community with a total premium of  $438,324. The average NFIP policy is $1,053 the Flood Nerds can get that down to around $759 so let's work together. 
Our wonderful Capitol
Denver
has a beautiful golden dome and
1,286 flood policies
through the NFIP for a total of $1,245,194. Your
average premium should be around $968. Paying more?
Stop and get a free quote from the Flood Nerds here in Colorado.  
The city of
Colorado Springs has 1,534 flood policies
and
El Paso County has 609
policies. Together you pay a combined NFIP premium of $1,647,270. Your
average is $783.
I see way too many people here overpaying.  Whether through the private market or using the NFIP properly, I know the Flood Nerds can save you money.
This city of
Lakewood
is where our home office is located. There are
380 NFIP policies
that cost $329,271 in premium.
The average premium in Lakewood CO is $866.50
. Don't pay more, let the Flood Nerds find you Better Flood Insurance.
Wheatridge
has a clear creek and beautiful natural parkways. But
243 of your properties
are in the mandatory flood insurance zone. $235,935 is what the government is charging for flood insurance bringing the
average cost of flood insurance in Wheatridge to $970.
I would be honored to find you a better deal.
La Plata County and Durango have 970
combined policies and
pay an average of $711 for Colorado flood insurance
. Get a quote for a lower price with a Flood Nerd. 
Golden and Jefferson County Colorado combined have 549 NFIP active policies
with an annual premium of $477,137. The average NFIP flood policy is
$869. A private flood policy will cost less than this.
Fort Collins
is the nation's best-mitigated community. Flood mitigation pays because it reduces premiums. Fort Collins has
375 policies
that cost $220,182. This makes the
average policy in Fort Collins Colorado $587.
With the last major Northern Colorado storms that caused flooding, not a single property in the high risk zone flooded. Unfortunately, that water had to go somewhere. So the low and moderate risk zones flooded. Those people in the low-risk zone thought they were safe. Not! A preferred rate flood policy for this area is about $500. Get a preferred rate policy from a Flood Nerd at Better Flood Insurance. 
Larimer County and the City of Loveland
were inundated in 2012 by the Big Tompson River. That was considered a "100-year flood" but that area had just flooded 38 years prior. There are
697 flood policies
in this area and the average flood insurance policy with the
NFIP in Loveland or Larimer County is $1,106. 
Steamboat Springs
has beautiful aspens in the fall. They also have
290 flood insurance policies
and cost a total of $218,658. The
average flood insurance policy in Steamboat spring $753. Don't pay more, get a free quote from a Flood Nerd at (866) 990-7482.
The Town of
Telluride
is cute, quaint and home to
465 flood policies
that cost $307,376 for flood coverage. The
average is $661 but too many people pay more.
Private flood insurance can reduce your premium so you have more money for that new set of skis. 
The
Town of Frisco, Dillon and all of Summit County
has
380 NFIP flood paying properties with an average premium of $436.
This number is artificially low because many homes don't have a mortgage. If they did, the lender would require flood coverage. These property owners are gambling and the statistics are not in their favor. 
Made it This Far? Consider This About the NFIP
Wow! You are really interested in the average cost of Colorado flood insurance if you made it to the end of this page! So, here's a closing thought about FEMA flood insurance.
The NFIP made flood insurance available to more than 20,000 communities in the United States. Awesome!  But, Colorado has a competitive private flood insurance market and when you know what you are doing, you can usually find better premiums than the government rate. 
For decades, the NFIP over-charged 50% of its policyholders and under-charged the other 50% all while racking up $42 billion in taxpayer-funded losses. If you overcharge half and undercharge the other half no one pays the right amount. Are you gambling you are in the undercharged half?
About 30% of NFIP claims payments go to the same 3% of insured repetitive loss structures year after year. This means that the other 97% of flood-exposed policyholders are footing that bill. They could have paid less and still netted larger claims payouts if they had been in the private flood insurance market. 
Don't risk losing everything if you don't have flood insurance. Don't overpay for flood insurance.