California Flood Insurance San Diego 2023


Here's the 610 on California Flood Insurance San Diego CA from the people who know it well – the Flood Nerds™
Standard Homeowner's Insurance Does NOT Cover San Diego Flooding

A typical California homeowner's policy is written through Farmers, State Farm, Allstate, or Progressive. These policies protect your home from things like fires and theft. But what they don't cover is damage from flooding. 
Go ahead, ask your homeowner's agent to add a flood endorsement to your policy, and watch them laugh.
But it's not funny.
In most cases, the only way to get flood coverage in flood zones in San Diego CA is by purchasing a separate flood insurance policy.  And unfortunately, most local insurance agents will just stick you in the National Flood Insurance Program (NFIP) – easy for them – expensive for you.
Flood Nerds are Flood Insurance Specialists. We look for and often find you great coverage and rate and the search is free.
Do You Really Need Flood Insurance in San Diego California?
The NFIP had a stranglehold on the California flood insurance San Diego markets for years. Too many people think if they aren't in a San Diego high-risk flood zone map so they don't need coverage. And they find out they're wrong the hard way.
---
"It never rains in California….it pours man it pours"

Albert Hammond 1972
---
That popular song from the '70s is still true today. California sees more than its fair share of flooding. Especially in the San Diego C
ounty flood areas. And all the fires cause more risk as vegetation is no longer holding back mudslides. 
Even if you are in what NFIP calls a "low-risk area" you are still at risk. That's because 20% of all flooding events in the US every year happen in those "low risk" areas. 
Maybe you thought about buying flood insurance when you bought your house but said "Naw – the lender doesn't require it so I must not need it". Your real estate agent may have even told you it wasn't necessary. 
Or maybe you saw a big storm coming and thought about the risk of flooding. But by then it was too late to buy a policy. You dodged the bullet that time. But what about the next?
Just because the flood zones in San Diego consider your property a "low risk" it doesn't mean you aren't at risk.  
The government has been collecting flood data for the last 50 years in San Diego. This data shows that recent major storms resulted in the damaging flood are in these low-risk areas. And 90% of people who had floodwater in their homes after these flooding storms didn't have flood insurance. 
Don't buy the lie about low risk – buy flood insurance!
San Diego flooding map
The original federal maps that covered flood insurance in San Diego flood risk map risk were created in the '70s. Technology has advanced since then, but that doesn't mean all the maps have been updated. And those maps are important. The NFIP and all federally backed lenders rely on these maps to assess risk, set premiums, and determine who is required to purchase flood insurance. 
Bad San Diego flood zone maps leave property owners under or uninsured.
And San Diego County has many bad maps. Out-of-date maps cause problems. If the area has been developed, then there is likely more concrete creating a barrier for land that previously could have absorbed a massive downpour. 
San Diego City limits, San Diego County, and surrounding areas such as Oceanside CA, Escondido CA, Carlsbad CA, Chula Vista CA, Coronado CA, Del Mar CA, and Imperial Beach CA to name a few has been growing. Since 1970 California's population grew from 19.9 million to 39.5 million. Those people need places to live and work and that means development.  So if your home was built after the 1970s and it could have an outdated flood map that doesn't reflect recent development you are probably at risk for flooding and don't even know it. 
Any property owner that is financed will be required to purchase a California flood insurance San Diego policy if your structure is on a flood risk map. Owners of properties outside of these San Diego flood risk maps will not be required to carry flood insurance, but it is important to remember that a line drawn on a map doesn't protect your property from flooding. FEMA estimates that twenty percent of their claims on any given year come from San Diego California and surrounding areas.
Even FEMA admits that the San Diego flood maps only partially reflect the real risk. Recent storms are proof it can rain anywhere in California's borders.
Flood coverage gives you peace of mind and California flood insurance in San Diego really isn't as bad as you think. The average cost for California flood insurance in San Diego is $500 to $850 per year.
No matter what the map says, it's better to have coverage and not need it than to not have coverage and wish you did.
Natural disasters are common in California, earthquakes, wildfires, and mudslides. But in some areas, such as San Diego CA, and San Diego County, flooding poses a major threat. City officials consider flooding to be the natural disaster most likely to affect the San Diego area. For this reason, property owners within the city, county, and outlying areas are strongly urged to consider purchasing flood insurance to protect themselves financially.
Options for California flood insurance San Diego

Most homeowners, real estate agents, and lenders don't realize you have options when it comes to flood insurance in San Diego. But the Flood Nerds know all about getting cheap flood insurance in San Diego and surrounding areas. We know more than 5 Ways to Save on Flood Insurance.  There are basically two markets for California flood insurance in San Diego
San Diego California National Flood Insurance Program 
The National Flood Insurance Program (NFIP) is run by the Federal Emergency Management Administration (FEMA) and they are the government option for San Diego flood insurance. They've basically had a 50-year monopoly on the market and the premiums reflect their dominance.
Within the California NFIP, you will find re-sellers. These are companies that sell you a policy under their company name, but basically, it's just an NFIP policy with an insurance company logo on it. If you have Nationwide flood insurance, State Farm flood insurance, Progressive flood insurance, or a policy by any other re-seller you just have NFIP insurance under a private company skin. That's NOT the way to save money on flood insurance in California. Think you might have flood insurance through a re-seller? Check out this list of companies that resell the NFIP policy.
San Diego California private flood insurance market
San Diego CA flood insurance isn't stuck with the NFIP. There is a robust private flood insurance market and you can even tap into the Lloyds of London flood insurance syndicate for California flood insurance San Diego.  Sometimes you can get really good rates with Lloyds because they spread the risk all over the world and the risk of the entire planet flooding at once is very small. We Flood Nerds like to say "God said he wouldn't flood the world again and Lloyds of London takes him at his word". Now you know what makes a Flood Nerd laugh.
But getting the right flood insurance is no laughing matter. There are so many options and it's easy to confuse the private flood insurance market with those NFIP re-sellers. That's why you need to hire a Flood Nerd to get cheap California flood insurance in San Diego.
We shop many options for your property in your San Diego area and ensure you get a great premium. We'll even check out the NFIP to make sure that all the bases are covered.
The Cost of Flood Insurance in San Diego California
One major factor in the cost of flood insurance for San Diego is the property location and the company you choose to write the coverage. Premiums for homes in low-to-moderate risk are lower and premiums in high-risk areas are higher. 
Flood Zone X  – San Diego Low-to Moderate Risk Zone
Lenders don't require flood insurance in this zone. But remember, floods happen in low-risk zones, and the map may be old.
For properties in the X Flood Zone, we use to suggest the government Preferred Risk Policy (PRP) but the NFIP 2.0 Risk Rating removed this policy from what the NFIP offers. The government used to subsidize a portion of the premium and limit the coverage, so this kept the rates low. The average cost for PRP flood insurance in California with the maximum set limits in low-risk flood zone areas is $500 – $900 per year
. If you are buying a new home it is always a good idea to ask if the seller has flood coverage and get a copy of their policy if they are getting the subsidies we Flood Nerds know how to get this same subsidy for you when you buy your new home. 
Flood Zone AE in San Diego
A higher-risk flood zone is Flood Zone AE. If your property is in Zone AE, your lender will require you to have flood insurance. 
The cost of California flood insurance in San Diego in this zone really depends on factors that are unique to the structure.
As an example, let's look at a house built on a slab on grade foundation.
The home was built in 1974. The policy is for flood coverage at the NFIP maximum of $250,000 for the building only. It doesn't include contents and the deductible is our recommended amount of $5,000. 
Our example is a house in San Diego CA flood insurance but the premiums will be the same as in San Diego County flood insurance, Carlsbad California flood insurance, Chula Vista California flood insurance, Coronado flood insurance, Del Mar California flood insurance, El Cajon California Flood insurance, Encinitas California flood insurance,
Escondido California Flood insurance, Imperial Beach California flood insurance,
La Mesa California Flood insurance, Lemon Grove California flood insurance,
National City California Flood insurance, Oceanside California flood insurance,
Poway California Flood insurance, San Marcos California flood insurance,
Santee California Flood insurance, Solana Beach California flood insurance,
Vista California flood insurance,
and most other California cities and counties in an unnumbered AE flood zones.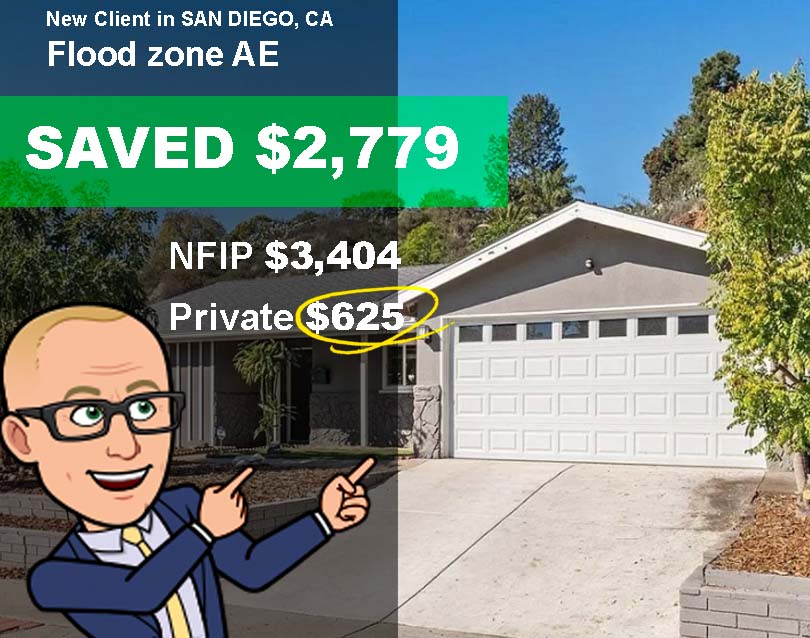 The NFIP option in San Diego Flood Zone AE is $3,404
This would be the price if the property had a previous flood loss and either doesn't have an Elevation Certificate or the Elevation Certificate shows the lowest floor is 4 feet under the BFE. This policy lets you use 10% of your coverage to cover other structures on your property
Now, let's look at the San Diego private flood insurance market and compare the options. The coverage and deductible are exactly the same.
The California Lloyds of London policy would be $625
This option is great but they won't cover property with a prior flood loss. But they have a broader definition than the NFIP and offer $2,000 for loss of use. $2,000 for other structures doesn't increase this coverage. They don't require an Elevation Certificate.
California private flood insurance (Not Lloyds) is $1,296
This option will take properties with one prior flood loss if it was more than 5 years ago and the claim was under $100,000.  They will write practically all risks, and you don't need an elevation certificate.
San Diego New Flood Maps
San Diego Flood Maps have 4,876 properties in the high-risk flood zone.
And there were new maps in 2019.
The area that is most affected by the new San Diego County Flood maps is Del Mar, and Newport Beach, from 17th Street north to San Dieguito River.
FEMA flood maps that will take effect in two months have the potential to send the insurance cost for these properties up.
The good news is that if you bought your flood insurance policy within 12 months of the new map, you will get a heavily subsidized policy.
You will need to work with a flood insurance expert; however, to figure out how to do this.
Flood Zone V and VE in San Diego California
NFIP insurance for homes in the V and VE flood zones is extremely expensive. Once I saw a premium of $30,000 a year for a single home family. This is ridiculous!!
To save you money, the Flood Nerds shop flood insurance for your V or VE flood zones properties on the private flood market is underwritten by Lloyds of London.
We see savings in the thousands with this approach AND we have been able to double and triple coverage for California flood insurance San Diego oceanfront properties.
The problem with the NFIP approach is they take a one-size-fits-all approach to coverage. The results are premiums far too high for waterfront houses.
Coastal California homes are all custom built. The NFIP doesn't take this into consideration but Lloyds of London's other private flood insurers do. They offer variable coverage options as well as significant savings.
For example, a home in Rio Del Mar California, in a VE flood zone map needs $250,000 of coverage, with no contents coverage and a $5,000 deductible.
The NFIP annual cost for flood insurance in a VE flood zone is $4,802.00.
Ouch!
The same coverage for the same property on the private market is under $878.
---
---
Here are some other resources for you YOUR FLOOD NERDS
What are flood Nerds?
WE SHOP many FLOOD INSURANCE | National Flood Insurance Program, NFIP, FEMA, Government Flood Insurance, Lloyds of London Flood Insurance, Private Flood Insurance, Private Flood Insurance Market, Lexington Flood Insurance, Palomar Flood Insurance.
---
---
---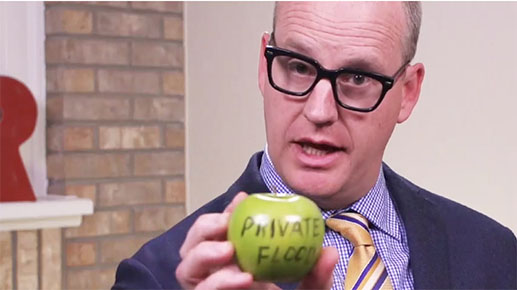 ROBERT MURPHY
Robert Murphy is the Founder of Better Flood Insurance a nationwide Flood Insurance Agency. He is a flood nerd, is passionate about education around the need for Flood Insurance.
We shop many options to make sure we are getting our clients the best coverage at the best price.
---
---
---
resources.