2023 – Flood Insurance for Your Rental Property
Flood Nerds™ Make Getting Flood Insurance for Rentals Painless
If you have a short-term rental or a long-term rental property in a flood-risk area, your regular homeowner's or landlord's insurance policy won't cover damage from flooding. 
Operating an Airbnb, VRBO, or even a long-term rental is a popular way to generate extra income these days. But just one inch of water inside your property could wash all those extra dollars away for good.
When you make money from a property you own, it becomes a business, and this changes the type of policy you will need.
Getting A Quote for Rental Flood Insurance Is Easy
You spent hours researching properties, estimating rental incomes, looking at comparables, and crunching the numbers to find just the right rental property. A flood can wash away your rental in just moments.
Flood Nerds get you covered fast. We will shop your options for flood insurance for rental property and provide you with a quote that covers your rental business with the coverage you need and a price you'll love.
FEMA Flood Insurance for Rental Property 
We shop the private and government options for rental flood insurance and compare. 
If you're financing your rental property, don't worry. We only offer options that your lender will approve and we'll make sure your closing isn't held up waiting for coverage.
Flooding is the #1 Disaster in the United States
Your rental's proximity to the beach, the lake, or the river allows you to collect prime nightly rentals. Way to go!
But that water view is as dangerous as it is beautiful.
This 2020 flood risk assessment shows property all over the US is a substantial risk for flooding.
You Can't Afford NOT to Have Rental Flood Insurance
Flooding damages your floors, walls, electrical, and mechanical systems! If there's a flood, you'll need to clean up, clear out, and start over again.
Do you have the money in the bank to do that alone?  
If you have a mortgage on your rental property and it is located in a special flood hazard zone (flood zone AE), the lender will require you to buy flood insurance and keep it in effect for the life of the loan.
But if like most investors, you pay cash for your rental properties, it's up to you to cover your ass-ets.

Talk to a Flood Nerd about your short-term or long-term rental property. We'll help you determine what type of policy meets your needs.
Flood Insurance for Rental Property Is Complex
Insuring a rental property isn't as simple as you think. 
In fact, what type of rental property you have affects the type of coverage you need. Is it a long-term rental, a short-term rental, or your second home you rent out when you aren't there?  
It makes a difference!
After a flood isn't a good time to find out your policy doesn't cover the current use of your property.
Do you need contents coverage? What about if your rental property is in a condominium building?
Complexity doesn't bother Flood Nerds. We love it! Just give us your details and we'll put our slide rules, protractors, and calculators to work!
Seriously, we use modern tools to shop the available options to cover your rental property from flooding.
We know the Lloyds of London insurance syndicate as well as other true private flood insurance companies. When a Flood Nerd shops your rental property coverage, we check out private flood insurance for rentals and FEMA flood insurance for rentals and compare the rates and coverage.
Not every policy is right for every rental. Flood Nerds are expert matchmakers. We match your rental to get you great coverage.
Does It Take Long To Get Flood Insurance for Rentals?
If you've got a minute to fill out a form, you can get a quote for flood insurance for rental property fast. Just answer a few questions and a Flood Nerd will start shopping.
Once we are on the job, you can rest easy. You're going to get a great rate and policy Flood Nerds understand mortgage lender requirements. We'll get you the coverage and the documents you need to keep your closing on track. 
Your coverage begins when you close on the loan. It's just one less thing for you to worry about.
Is All Flood Insurance For Rentals the Same?
Absolutely not!
Many people think that the National Flood Insurance Program (NFIP) is the only game in town for flood insurance for rental property. They think wrong. Often the coverage is expensive and doesn't provide the protection you need. 
Other investors think that State Farm flood insurance or Allstate flood insurance is a great private flood insurance option. They don't realize that this type of flood insurance is just an NFIP policy with a big insurance company's name and logo on it.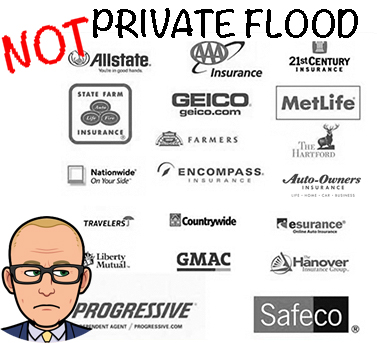 Flood Nerds know the REAL private flood insurance market and we know how to shop it for flood coverage for income-producing properties. 
Once we shop the private market (including Lloyd's of London) we'll compare coverage and rates to the NFIP offering and show you the best solution.  
Flood Nerds do the hard work of shopping and comparing coverage so you can focus on getting your rental ready for business.
Do My Tenants Need Flood Insurance Too? 
The flood insurance policy for your long-term rental covers your interest in the property.
Things like the structure, the AC, the wiring, floors, and walls are covered. If you have appliances in the home, you should have some contents coverage.
Your tenant's furnishings are not covered by your flood insurance policy. It's a good idea to suggest that your tenants purchase flood insurance. Flood Nerds can help them out too.
We'll find a great contents policy and you'll rest assured that in case of loss, tenants won't be looking to you to cover damage to their belongings. 
If your investment property is a full-time vacation rental, talk to a Flood Nerd about the right type of coverage that keeps your building and the contents covered.
Where Do I Get a Great Flood Insurance Policy for My Rental?
Better Flood Insurance is a national flood-only insurance firm that sells flood insurance policies for short-term rentals and long-term rentals. 
Better Flood is home to the Flood Nerds and great flood insurance for rentals, businesses, and even homeowners.
We don't sell life insurance, auto insurance, or homeowner's policies. But we ARE your flood insurance experts
Flood Nerds thrive on the complexity of flood insurance for rentals, condos, and businesses. 
We shop both the FEMA flood insurance for rentals and the p
rivate flood insurance for rentals
options.